| | |
| --- | --- |
| Posted on April 30, 2013 at 9:05 PM | |
By Nathan Chapman
More than one old timer, sitting in front of one of the country stores that still existed when I was a kid, whittling and spitting tobacco juice into his own shavings told me that specks were a different breed of fish. They ain't the same. That was said a lot. These old men of the mountains viewed the world around them with varying stages of contempt, amusement, and chagrin, sometimes all at once. But they all to a man felt as strongly about this place in which they live as any tribesman in Afghanistan. No matter how hard someone would try to tell them otherwise, the native speck was a different fish from the northern transplant that had arrived, most often, by way of the logging companies that had wreaked a fair amount of havoc on the ridges and spires of the Appalachians in the late 19th and early 20th centuries.
To be fair, they weren't entirely wrong. Most fish geneticists nowadays are in basic agreement that there is enough difference at the DNA level between northern and southern stocks to warrant at the very least a strain status. Some scientists still push for sub-species status, depends on who you talk to. This is isn't so important to fisherman as the fact that most serious southern trouters can tell after a few fish brought to hand whether or not a stream has been "tainted"-a favorite word amongst us mountain folk. Most southerners who chase the specks in our hills will say that the true natives are more green and red, while the northern fish is more blue and silver in overall color scheme. The differences do not stop there. Most will agree that the native fish is more shy, more secretive, less apt to be out in the middle of the stream on a bright sunny day, while even wild fish descended from northern stock have been primarily more responsible for the 'brookie's" bad reputation for being a stupid fish of the ever so often mentioned reckless abandonment.
Still even the mixed stocks that exist in our southern mountains today deserve more respect than they often receive. Many serious trout fishermen of our modern era do not really even consider small, high mountain streams a worthy endeavor. Huge, dripping fish held high into the camera lens are what prevail, not diminunitive brookies on beds of green moss. Give me the high country, with its severe weather patterns, craggy bluffs, and canadian atmosphere any day over crowded "hawg holes" where waiting to find a place to fish, arguments over who got in who's way, and dead hatchery fish lodged against understream rocks is the norm. Specks live where the place and time and reason for the season are just as much a part of why we go as the fish themselves, though most of us still proclaim this the prettiest fish on the planet. Or as John Gierach once said, it's one of those things that exists in nature that is one hell of a lot prettier than it has to be...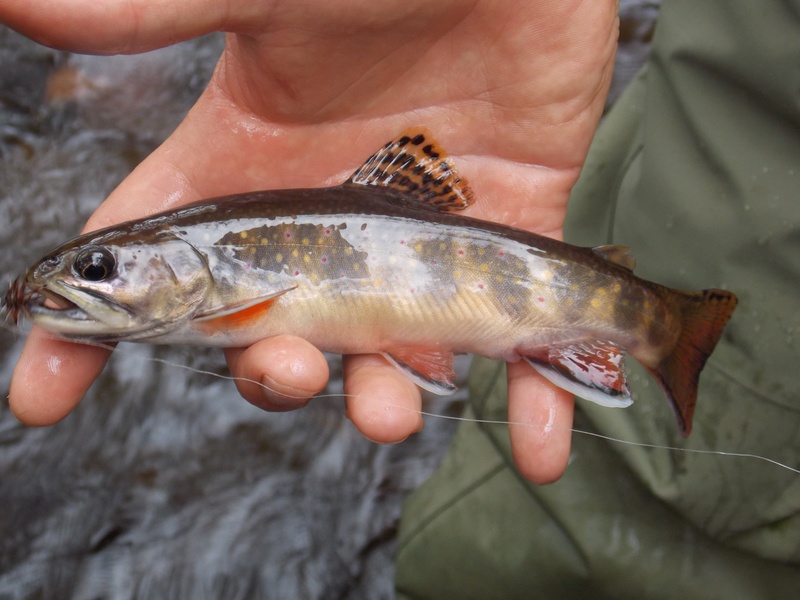 Categories: None