| | |
| --- | --- |
| Posted on June 1, 2013 at 9:30 PM | |
by Nathan Chapman
I sometimes struggle to figure out why so many are so willing to fish in a crowd. Not that every time one goes fishing should total solitude be a realistic goal, but why go to a river/stream/lake/pond, and fish right in someone's hip pocket? Why only fish in the middle of the day on sunny Saturdays in warm weather? Why stand in line to fish? For the most part, the fishing I like to do has more to do with the sounds around consisting of nothing more than the whispering of the water and the call of songbirds. I ain't interested in big fish if big fish mean fishing in a genuine crowd.
I fished today in solitude. I fished in a headwater stream with easy paved road access where I was the ONLY fisherman, period. I fished where native brook trout (specks) and wild, stream-bred rainbows share the water in an unusually balanced fashion. This is water largely untrammeled by the masses. It is water where an 8' rod seems like a telephone pole and you can't afford any careless backcasts. The fish are often willing here in the way that only fish who are seldom bothered by anything other than 'coons and kingfishers will be. I fished a lazy stretch of stream, picking an easy point to climb out to the trail and walk back down to the car and I was alone.
I came away with a sensation of having pulled off something sneaky. Almost underhanded. It's bad, but that's the way modern fly fishing has come full circle in that in order to be a serious fisherman, you have to have witnesses. There must be a cheering section.  One can't be very good if he fishes alone regularly. There must be an ugly cast getting hidden in there somewhere. That must be it.
And yet, I drive by a crowded river on a regular basis, not far from my own house, where out-of-state license plates are the norm. I see dozens of mostly men, standing in the middle of the river in the middle of a sunny day, fishing downstream on a short line. I see this, really I do. Plenty of other "fishermen" see it too, because these fellows seem to prefer fishing in a crowd. I know these same men read countless articles on how to fly fish, so I'm left wondering where the articles keep turning up describing the mid-day, mid-stream, downstream short-line drift technique. That must be a hot how-to article topic and a growing go-to method in the sport-or so it seems if one watches the crowded rivers much.
Fly fishing should not be done this way. The trout deserve better as well as the fishermen. Fly fishing should be about making yourself as much of a predator as you are physically capable. How many herons do you see trying to fish downstream in the bright sun at close range? Natural predators figured out eons ago that trout require a "fine and far" approach. If you can see the fish, you can almost be certain that the fish can see you. Fish the longest finest leader you can cast effectively in ANY situation, always.
I fished today in a small, brushy stream, caught somewhere in the neighborhood of three dozen fish, all wild, some of surprising proportions given the water from which they came. Some were the same fish that have always been there, unaffected by the encroachment of man, and I was alone.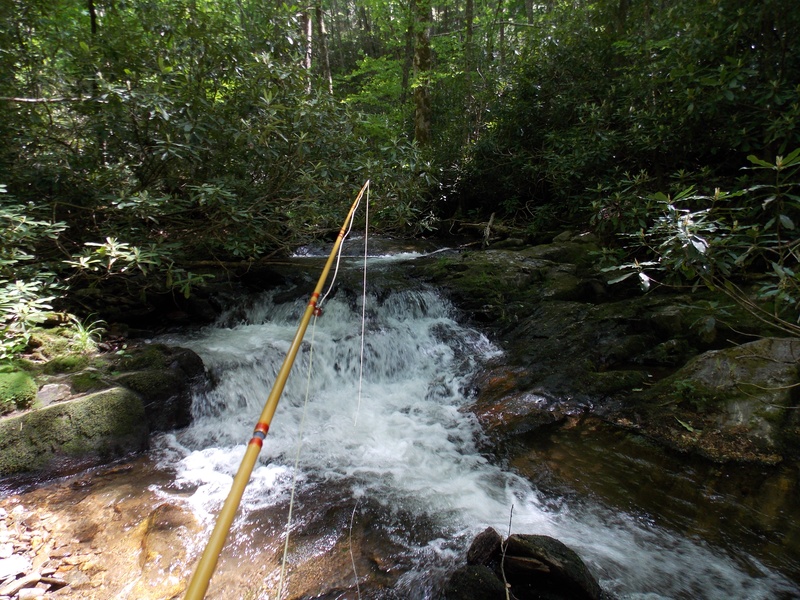 Categories: None